St. Thomas Episcopal Church
Oriental, NC
The Saint Thomas
Columbarium
A Memorial Garden in the Parish Courtyard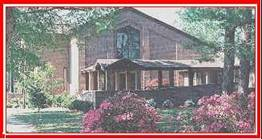 Providing a hallowed place of burial adjacent to the church carries on the Christian tradition of having mortal remains as near as possible to the parish church. The columbarium at Saint Thomas makes it possible for the remains of members of the parish community to be close by, reminding us of the Communion of Saints, both living and dead.
The service for Christian burial takes place in the sanctuary with the ashes in a container covered by a pall. Committal is held immediately thereafter in the courtyard. If the family wishes, friends may be received in the parish hall following the committal. Refreshments may be provided by the women of the church on request.
To select and reserve a niche in Saint Thomas' columbarium, ask the Rector for a copy of the policy, rules and regulations concerning this arrangement between you and Saint Thomas Church. A brochure describing the columbarium layout and the Episcopal Burial Services is also available on request.
St. Thomas Episcopal Church, Oriental, NC
402 Freemason St., P.O. Box 461, Oriental, NC, 28571-0461
252-249-0256
[email protected]