St. Thomas Episcopal Church
Oriental, NC
Welcome to the Internet home of St. Thomas Episcopal Church
Oriental, North Carolina
 The Rev. Jeremiah C. Day, Rector 
The Rev. Gary Fulton, Long Term Supply Priest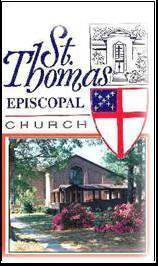 SERVICES
(Winter Schedule)
Sun: 8 & 10:30 AM Holy Eucharist, 9:15 Sunday School
Tues: 8:15 Holy Eucharist
Wed: 8:30 AM Healing Service; Order of St. Luke
REGULAR MEETINGS
(Winter Schedule)
Sun: 6:30 PM Youth Movie
8 PM AA Meeting
Tue: 9 AM Men's Bible Study
1 PM Intercessory Prayer
Wed: 7 PM Praise & Compline
Thu: 7 PM Choir Practice
Fri: 1:30 PM Praise and Prayer
(in private homes)
Second Tues: 11:30 Blood Pressure Check, 12:00 Sr. Lunch (call to make reservations)
Third Sat: 8 AM Men's Breakfast
ECW meets four times each year
CALENDAR HIGHLIGHTS
For various schedules and additional event information, see the latest issue of The Moorings.
DECEMBER
3
9:30-3:30 ECW Advent Retreat @ St. Thomas
4
11:30 Youth group will serve chili and cornbread.
13
3PM Pastoral Sr. Lunch bunch will serve a Christmas Tea. Sign up in Parish Hall.
18
"Ushers Awards" Following 10:30 service.
18
7 PM Youth group play, "Christmas in Cricket County." Desert following.
Our Advent program "Bethlehem Year Zero" is held on Wednesday nights at 7PM/
The December 2005 issue of our newsletter, The Moorings, is now available online in Web format for browsing and printing single pages or Adobe Acrobat file for printing the entire copy (requires free Adobe reader). Back issues are available via "Publications" menu item to the left. This issue includes vestry candidate biographies.
If you missed the Youth Group slave auction, you can still participate. Contact Joe Bliss. Ideas for slaves include: car detailing, boat cleaning, RV cleaning, yard clean-up, household projects, pet sitting, helping with holiday parties and/or decorations.
The youth group will also be kicking off its peanut sales on November 6th. Salted peanuts are still available.
Pastoral Sr. Lunch bunch will be serving a Christmas Tea on December 13th at 3 PM. The program will be presented by Grace Evans and a tour of the new Historical Museum will follow.
Hostess and Kitchen Schedules are available via the Calendar link on the left. The 2006 Hostess Schedule is now also available.
Ginnie Goodwin is filling in as Church Secretary. Her hours are Mon., Wed., and Fri. and also most of Tues AM. Her hours for M.W.F. are 9:00 to 12:30.
From Jeremiah in Djibouti: October 2005 baptism pictures. Click here.
St. Thomas Episcopal Church, Oriental, NC
402 Freemason St., P.O. Box 461, Oriental, NC, 28571-0461
252-249-0256
[email protected]